Hello I'm Karin Frenay-Meyer
Since 2000 I have been living in Haarlem, the Netherlands, originally from Switzerland. I share my life with my husband Jules and my two teenage daughters.
Art and creativity have always been an important part of my life and my natural self-expression. But only after a time of a lot of stress - working on a computer too much - I now choose to make work of my art and share it with the world. 
I had the luck to get trained by different, very talented artists in the past thirty years. But mostly I'm a self-taught artist. The longer I paint the closer I come to my own style and self-expression. My style is colorful and expressive, with a hint of abstraction. 
Nature is my source of inspiration.
It invites us to recharge, relax and get inspired. Expressing my love for nature in my paintings is my joy. Enjoy it with me.
I create expressive and colorful paintings of trees, flowers and gardens, to bring the wonders and beauties of nature inside.
This makes it possible for you to enjoy a vivid and happy memory of a flower garden or memories of a long walk in the colorful forest in autumn. It's like a view out of your window, to relax and enjoy, that spreads happiness and comfort all year long, in your home or in your office.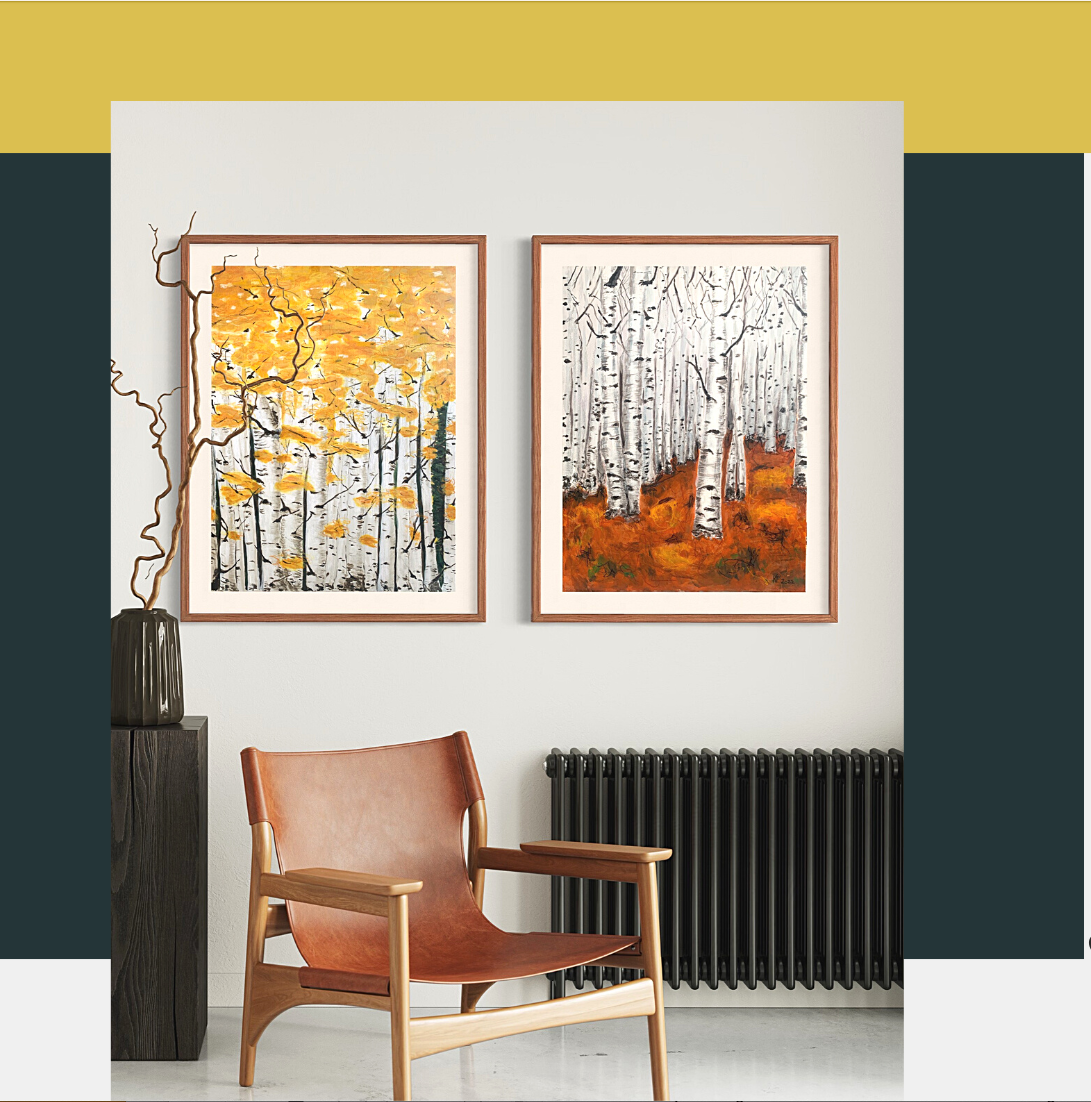 MY DESIGNS:
In my work I discover and highlight the essential forms, color combinations and contrasts of nature in new compositions, to inspire and recharge you with the beautiful and abundant energy of nature. All paintings are based on an abstract background, and I work up to the subject in different layers. My trees and flowers bring color in the abstract setting, they are surrounded by moving lines; like the auras of nature. Catching the essence of nature - the forms, colors and contrasts - are all part of my art. 
I love to work with high quality acrylic paint. The vibrant colors and smoothness of the paint is fantastic to work with. An important side note, it's a non-toxic material.
Check out my Youtube channel I show there how I paint and my art studio.
My inspiration:
In my paintings I love to explore themes of nature, like birch trees from all kind perspectives (many other themes inspired by nature will follow). Nature is versatile, beautiful and nurturing. 
It's the simple things, like a walk in the forest or working in the garden. It's relaxing, it recharges our batteries, it fulfills us with joy and good vibes, and daily stress falls off our shoulders. 
With my paintings, I try to bring those experiences inside your home, so you can connect with nature and your own experience even when you're inside. You can stay connected with the feeling you had on your last walk in the forest or flower garden, with my art.
Collaborations: