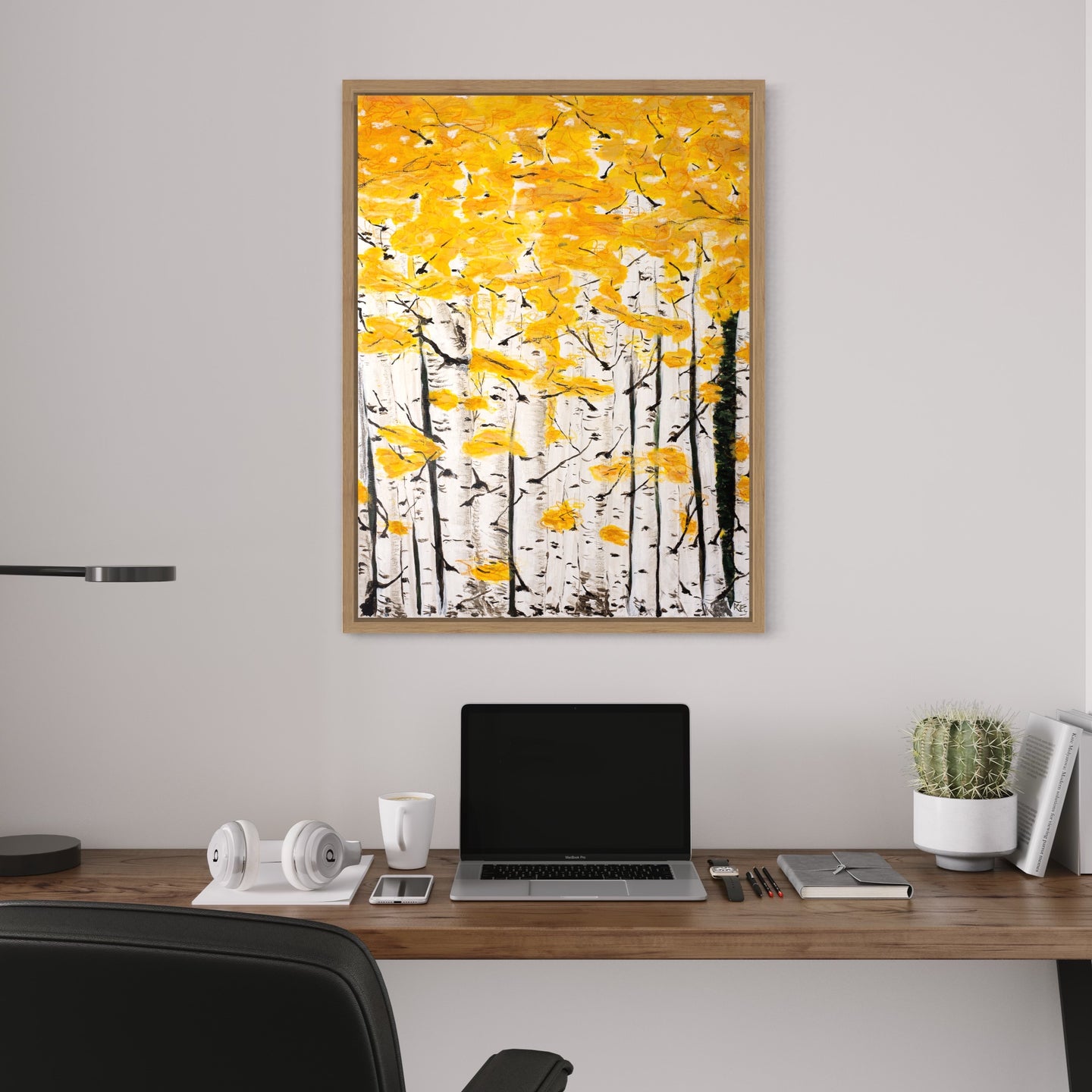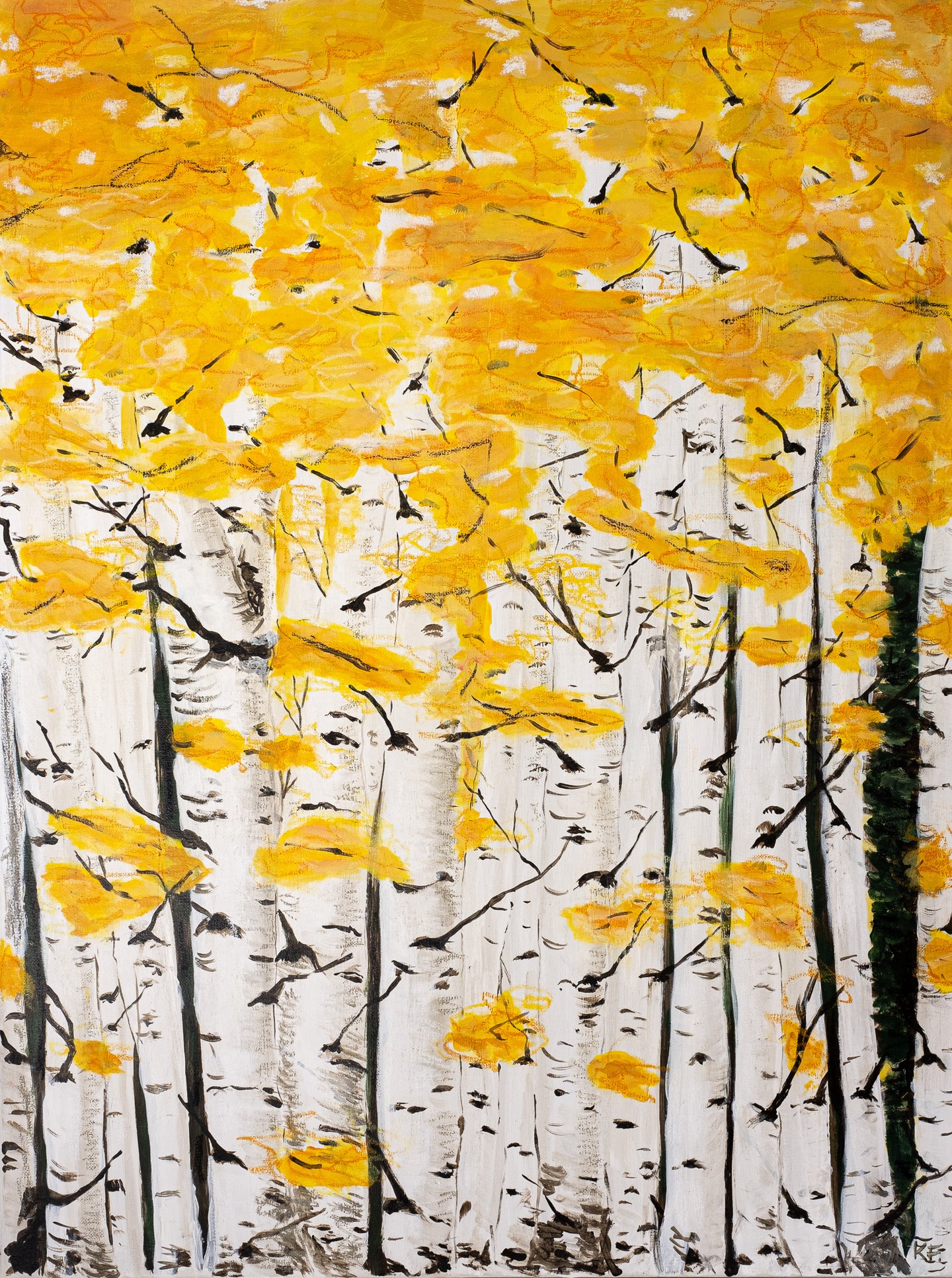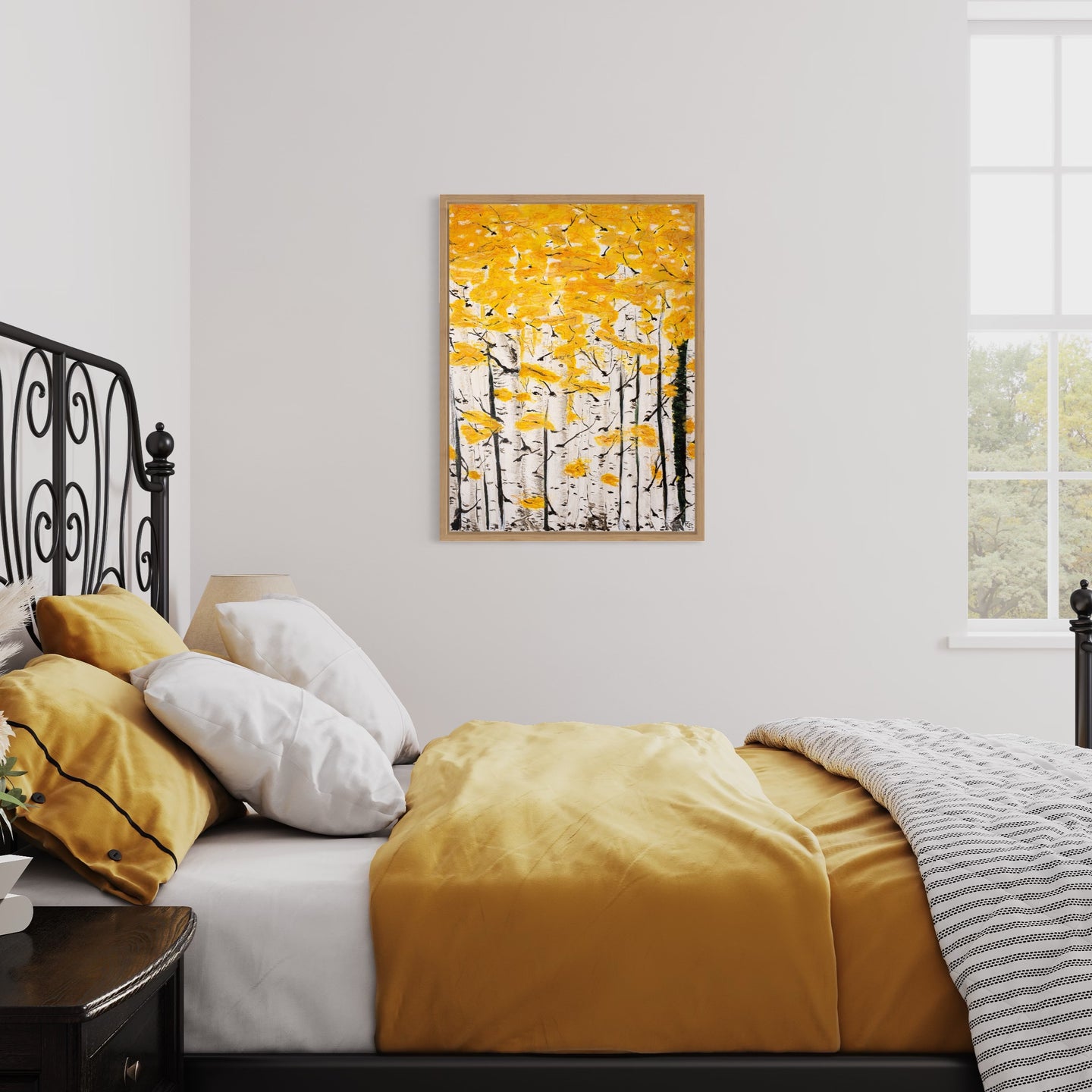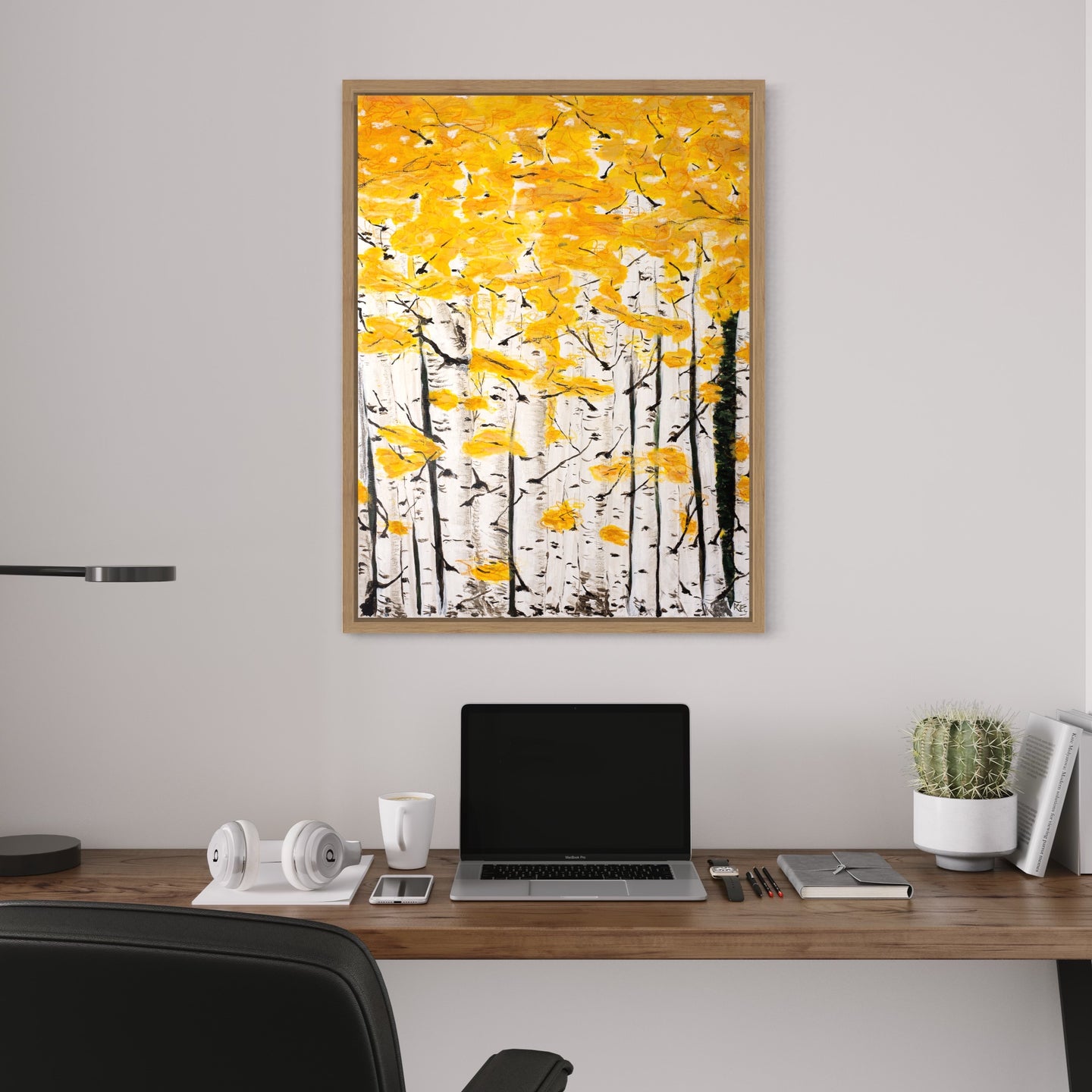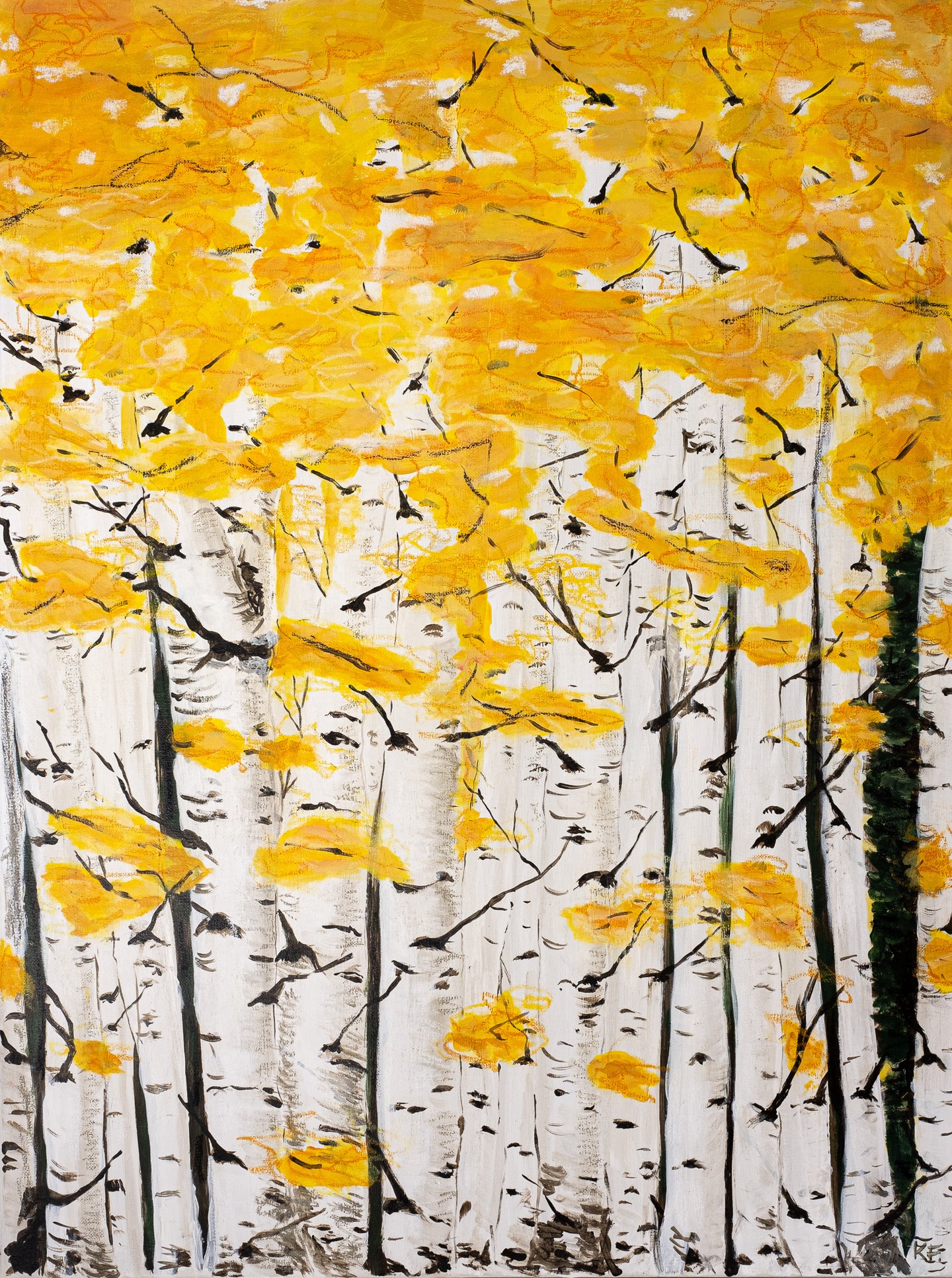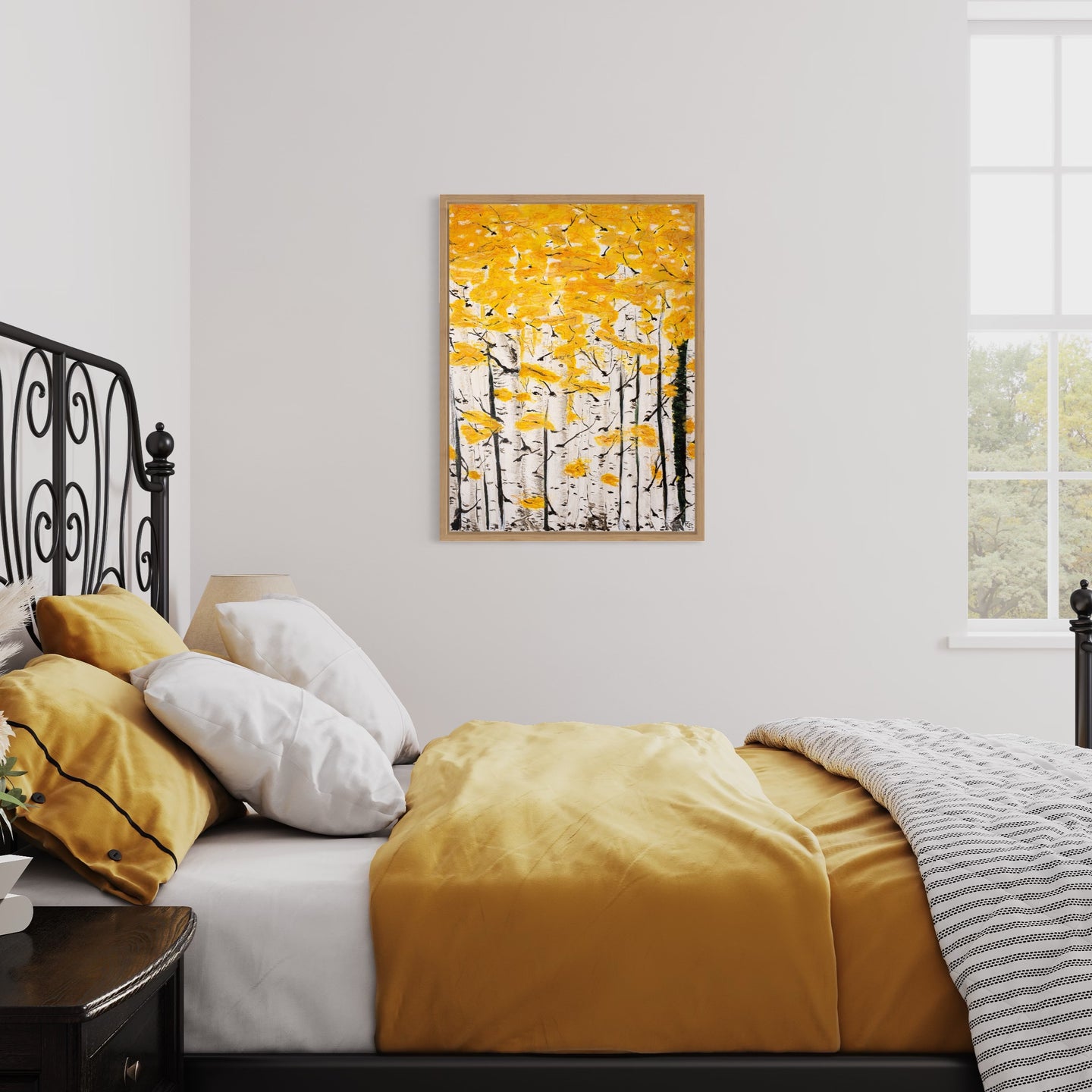 Whispers of Gold
Regular price

€995,00 EUR

Regular price

Sale price

€995,00 EUR

Unit price

per
Whispers of Gold - The pure and warm look of this painting will light up your space. As if you look out the window and the forest is close at hand.
Do you recognize this, you can't see the trees for the forest anymore? When I am tired, stressed or overwhelmed, the forest is the best remedy. A walk between the trees allows me to let go of everything, peace and order come into my head and I enjoy my day again.
In the series 'Birch trees' I show my love for nature. Why birch trees? They symbolize a new beginning, which I was also involved in at the time. I like their fresh and sophisticated look. The white, rich bark and in autumn they get the most beautiful colored leaves, from golden yellow to dark orange and various shades of brown.
In this series I painted the birch trees from different perspectives, as an overview, in detail or from the bottom to the crown.
I paint with acrylic on canvas and embellish the details with oil pastel. My goal is to make the artwork interesting from a distance and up close.
Acrylic on canvas 60 x 80 cm (exclusive frame)
Price is including frame.
 For free shipping use code FreeShippingArt2023 at the checkout.
Shipping Info

Your order will be shipped within 5-10 business days.

The artworks will be carefully packaged and sent by registered mail, so you must sign to receive it.

Shipping costs for originals:

Free shipping for EU & UK; US, Canada and rest of the world € 49.

Shipping costs for prints:

Free shipping for EU, all other countries see check-out. Shipping price depends on the product and your location.

Please note: all tax- and customs charges are the responsibility of the customer and are not included in the cost of the order or shipping fee. Taxes and customs charges differ depending on the country and state of the shipping address. Please note there may be a small chance that a parcel could get stuck at customs for up to 6 weeks. This is very rare, but when it happens unfortunately completely out of my control.
Print on demand information

As all prints are produced on demand (no stock) delivery time is around 5-10 workdays.

We will produce and ship locally to avoid high shipping costs.

Production is available in the EU, UK, US, and AUS, depending on your location we produce as nearby, as environmentally and cost-friendly as possible. 
Refund & Returns

Please open and check your parcel immediately upon receiving them. 

I accept returns within 30 days of receipt. If you do not reach out within 30 days, I will be unable to make a return, so please let me know in time. I refund only after receiving your return and communication via email.

Please return your print in the original packaging. If your print came in a tube, it must be returned with both end caps. If you opened the package and threw one end cap away, tape is not a replacement! If you do not have the original packaging, please go to the post office and purchase a stiff mailer or a sturdy tube, as well as postage. 

I will issue a refund after receiving your returned artwork in good order (not damaged), and after having communicated with you via email. Please read return shipment conditions.